OCSO 2017 Youth Concerto Competition Winner
The 2017 OCSO youth concerto competition was held on September 16th at Syracuse Artist Pianos in East Syracuse.  The judges selected one winner from this year's applicants.  Pianist Kaelem Michel will be featured during the orchestra's opening concert for the 2017-18 season at 7:30 PM on October 27th, at Atonement Lutheran Church, 116 West Glenn Avenue in Syracuse.  Kaelem will perform the first movement of the piano concerto in D major by Franz Joseph Haydn.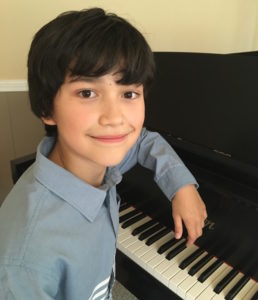 Kaelem Michel, 12, of Fayetteville, NY, is a 7th grader in the Fayetteville-Manlius Middle School. He began studying piano in April 2014 and started lessons with Patricia DeAngelis in  January, 2015. (Mrs. DeAngelis, now retired from Colgate University and LeMoyne College as piano instructor, was a frequent soloist with the Onondaga Civic Symphony.) 
Also a composer, Kaelem has participated in the Society for New Music's Composers Corner. In 2016, he was First Place winner in the 2016 Central New York Association of Music Teachers Advanced Piano Competition, and received honors at both the Nazareth College Piano Competition and the Music Teachers National Association Competition, NY State Division. He was identified as an Extraordinary Talent by the Carrie Lazarus Fund and in November of 2016 performed at the Extraordinary Live Concert in the Civic Center, Syracuse NY.  He is also a recipient of Senator John A. DeFrancisco's CNY Arts Young Artist scholarships.
In March 2017, Kaelem competed in the Lyra Music Competition in New York City as the youngest in the Junior Division, and won First Prize. This summer he attended the Lyra Music Festival and Workshop at Smith College where he received intensive pre-professional training in piano and chamber music. Kaelem has been actively serving the community with numerous performances in health, retirement homes and arts venues across Central New York.
Kaelem's interests include drawing, designing, bicycling, aeronautics, and making music with his 9-year-old brother Aiden, a clarinetist.  He is the son of Gregory and Heejung Michel of Fayetteville, NY. He is very happy to be making his orchestral concerto debut with the Onondaga Civic Symphony Orchestra!